June 22, 2009; 05:18 AM

Rome, Italy and Sydney, Australia (PRWEB) June 22, 2009 -- With the upcoming expansion of the generic top-level domain (gTLD) space by ICANN, several cities in the world will obtain their own top level domain including .NYC for New York, .BERLIN for Berlin, .LONDON for London and .PARIS for Paris. These will join the well known extensions such as .com, .net and .org.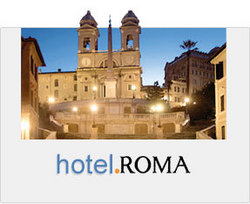 The city of Rome, once the centre of the Roman Empire and now the keeper of invaluable artistic heritage and a landmark destination for millions of tourists, also deserves its own Internet Address.
Roma TLD Srl intends to apply for the .ROMA extension and manage .ROMA to provide any individual or business with a connection to Rome their own .ROMA domain name. The official website is available at http://www.ildominiodiroma.it.
With the introduction of .ROMA domain names, Rome will join other cities and allow its residents, businesses, organizations and government agencies to register domain names ending in .ROMA such as www.hotel.roma, www.mariorossi.roma andwww.colosseum.roma to identify directly with the Eternal City.
"The introduction of .ROMA domain names represents a unique opportunity for the City of Rome to join other world leading cities and claim its own space on the internet," said Massimo Ralli of Rome, President of Roma TLD Srl. "A .ROMA domain name will ensure roman residents, companies and organizations a part of the future of the internet; it will be a link between Romans and the world, uniting and identifying everyone who cares about Rome."
The team behind .ROMA has been working for years to bring this idea to life and provide the city of Rome with its own local extension. If the .ROMA domain is supported by the city and approved by ICANN, Roma TLD will operate the .ROMA registry in its Rome headquarters and will devolve a substantial portion of revenues from the sale of .ROMA domain names to the City of Rome, ensuring a constant revenue stream that will help the city grow over time.
About ROMA TLD:
Roma TLD Srl is a Rome-based business owned and managed by entrepreneurs with a decennial of experience in the domain industry; the major supporter and driver of the project is Massimo Ralli, President of Roma TLD, a roman MD and entrepreneur. Massimo is a world-recognized expert in the domain industry where he has been working since 1999 as the founder of DomainsBot, the leading company in semantic domain analysis. For more information please visit: http://www.ildominiodiroma.it.
Contact Information:
Massimo Ralli
Roma TLD Srl
Email: massimo (at) ildominiodiroma (dot) it